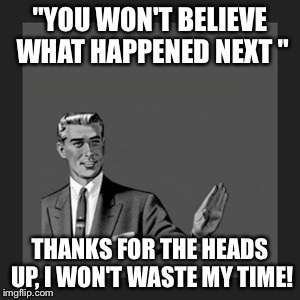 Oh how I hate those!  You know what I am talking about.  You have seen them on your news feeds or your friends' posts. Yes those.
If you haven't, here's an example.  There's a photo of a woman, yes it's mostly always a woman. She is just standing there doing nothing.  Wearing something sexy.  Yes, there is always a woman wearing something sexy.  The caption: This woman was just waiting for her boyfriend to propose but you won't believe what happened next.  Like seriously?
Look, I have no time to click through shit, hot woman or not.  Just fricking tell me what happened already! You already got my attention!  Don't play games with me.  But the sucker that I am, I click anyways.
What usually transpired is nothing what you'd expect. The boyfriend propose and that's about it.  Usually.  That's it.  Well what do you expect?  Her clothes would magically fall off?  Gimme a break!